Disclosure: I get commissions for purchases made through links in this page. This helps keep this site running
Here are ways to solve the problem of how to share pics of your kids with the extended family directly from your phone that works for all generations. Yes, without requiring great-grandma to be on Facebook, Instagram, or other social media. The good news is that you have plenty of great privacy-oriented options when comes to sharing photos with family, which I'll list below.
Any of these options are ideal when you want to share photos with family and just people YOU invite, without recipients needing to have a profile on a social media site. That way you can share your children's pics with extended family all at once - and without random weirdos seeing these pics.
Why not just use Instagram with the pics set to private? Or other social media set to private? Actually this does work for some families, but there are 2 big problems with Instagram and other social media:
profiles are still public - people can still find you on there even if your pics are set to private. That may not bother you at all, but it might bother your mom or your granddad, since they'd have to actually create a profile on the social media site to follow your pics
social media has too many notifications - it's going to pose a problem to older generations if they get frequent notifications that are unrelated to photos you post. Yes, they can change notification preferences, but grandma might not know how to do that (or even that it's possible)
Privacy-oriented photo sharing apps for families
I recommend the apps below as the best ways to share family photos:
The first 3 are free, or at least offer a free plan. 23Snaps is a great example: it's entirely free and has no ads: they make money if you purchase photo books or other products through the app.
The last one, SmugMug, is a paid service, but I've included it because they store your photos in full resolution - meaning your relatives can download the pics without losing quality. Your relatives have the option of purchasing prints directly through SmugMug for convenience, or they can simply download the desired images to view on their computer then print use their existing preferred printing service.
A word of caution when selecting an app for sharing family photos
You could easily find more apps than the ones I've listed by searching your app store for "family photo sharing" but one word of caution first. I've found from unfortunate experience that some of these photo sharing apps wind up shutting down a year or two after they launch. This is very frustrating because then you have to move your photos elsewhere, let your family members know about the change, and so on. By contrast, the options I listed above are ones that have been around for many years already, so they've got a proven track record of service.
Features to consider when selecting your family photo sharing service
Availability on all devices: Android, iPhone, desktop browser
This is more important than you might think, even if everyone has a cellphone. Example: I assumed my MIL would want to access the pics via her cellphone so I asked if she wanted her invite via text. But no! she said she wanted it by email because she wanted to look at the pics on the computer because of the larger screen. So it's important to have coverage on all devices.
Ease of user signup process such that it doesn't scare off older generations
Also, it shouldn't ask for much if any personal information. To determine this, after you pick a service I'd recommend sending off an invite from within the app to your significant other and watching while they go through signup, to see if it would be easy enough for everyone else to manage. I'd also recommend using this time as a "tryout period" and loading on a few pics first and waiting a day or two to make sure it's working out well for your needs before inviting everyone else. I had to try out and discard a few services on my own before picking the one we ultimately went with.
Consider whether you want to allow the people in your family group to share pics too or not
Most services allow you to have control of this, but only in an all-or-nothing manner, meaning either you pick that everyone in the group can put up pics or else only you can. I personally found it helpful to allow others to share pics too – most won't anyway, especially if you title it something like "Anna and George's photo album", but it's helpful to allow it because then your spouse can share pics of the kids from their phone on occasions where they're the one taking the photos.
Ability to create albums vs simple feed
On the one hand, multiple albums are wonderful, but on the other hand the more features something has, the harder it can be for older generations to use. It's not an easy debate, and most services operate only via one or the other method.
Whether or not it requires you to put in info about each child
Some services are designed just for one child and ask you to put in birthdate etc (which pretty much rules it out if you have more than one kid); others are designed to have separate profile & albums for each kid, which sounds neat in theory but could involve extra work assigning each photo you put up, plus kid albums might all look too similar if your family does most things together. The majority of services do not require anything like that and allow you to just put up the family pics without needing to assign them to a kid. Still, it's something you'll want to decide.
Favorite free photo sharing app
I recommend Cluster. It's free, no ads, and it works beautifully for us on all devices. We had all generations on board pretty easily and quickly. We even had a great-grandparent in their late 80's regularly commenting on the pics! It's wonderful to see our whole extended family across the miles getting on board with viewing pics. Plus it's so easy for me to share pics direct from my phone in 1 tap with my whole family.
However, if you like the idea of albums or extra features, you might want to look into some of the other services. We purposely went with the Cluster trade-off of the simplest possible user experience even if it doesn't have a ton of extra features. This was because we had several people who weren't really confident with technology and extra buttons.
Favorite paid photo sharing app
One limitation that many of the free services have is that photos are usually not stored at full resolution on the service. That means that if you upload an image on a free service and grandma uses that photo to make prints, those prints will come out poorly. SmugMug solves that problem by storing all photos at full resolution.
SmugMug is a paid service, but you only need their cheapest plan level (Power plan) to achieve this, and the price is quite reasonable for the features it delivers. One thing I love about SmugMug is the ability for family and friends to order prints and gifts direct from your SmugMug site; no need for grandma to transfer the images to another device to order prints.
And of course you can share images easily via private share groups, and you can password-protect your site if you wish to. SmugMug is quite a different animal from other photo sharing services because it creates for you your own customizable website, so it's a slick, professional-looking result that you get. If you like to have things looking great yet you want to preserve your privacy, this could be the ideal option for you.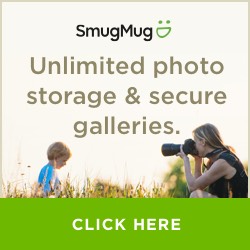 And finally…
Each family is different. The best way to share photos online for your family may differ from what your brother's family uses. Whatever service you decide on, it's helpful if you send your family a group email just before invites go out, to let them know to expect it and so they don't think it's spam. That'll help your whole family get onboard smoothly and quickly. Have fun!