Disclosure: Some of the links on this page are affiliate links, therefore I may be compensated if you purchase when clicking through my links.
4th of July is almost here, and we're seeing online deals from several children's clothing stores. This is a great time to get extra value for money.
Carter's
Stylish yet affordable children's wear store Carter's has a 4th of July sale mentioned below. Besides that, they also have some very nice cotton children's face masks at a very low price point. Together, these factors could make this store a good place to shop for back to school.
No coupon is needed; pricing reflects discount.
---
OshKosh B'gosh
OshKosh B'gosh is the pricier sibling store to Carter's, but when they have an online deals as shown below, many OshKosh B'gosh items can come down below discount store pricing, so it's worth checking out.
No coupon is needed; pricing reflects discount.
---
Old Navy
Casual wear outfitter Old Navy has a great selection of clothes for kids, and they also stock men's and women's wear so you can shop for the whole family there. I love their consistent sizing and their range of styles. Here are their deals for 4th of July 2020:
Be aware that to get the children's uniform deal, you'll need to enter coupon code BOGO at checkout; this deal is valid at least through end of July 4th 2020 but it's not clear if it will be available past that date. The other deal, the up to 60% off, does not require a coupon code, pricing reflects discount. I love their girl's cinched-waist cami dress shown below; it's the perfect blend of casual and chic. You can press on any of the clothing images in this article for sizing and pricing.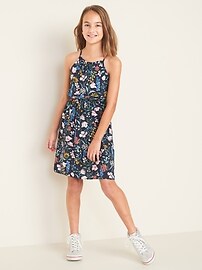 ---
Cotton On
Environmentally and socially conscious brand Cotton On also has a deal running at the moment. Like Old Navy, in addition to kids clothes they also have men's and women's clothing so you can shop for everyone there. Here is Cotton On's deal for this weekend:
No coupon needed; pricing reflects discount. This one is valid through July 5th 2020.
Their styles definitely have a surfer vibe about them, but there are a variety of different looks, all with an upbeat attitude such as the boy's T shirt below:
Cotton on also has some cotton masks for adults, although not for kids, oddly enough.
---
U.S. Polo Assn.
The U.S. Polo Assn. is all about the sport of polo (not to be confused with Ralph Lauren Polo, a separate brand). You'll find preppy styles for boys and girls at The U.S. Polo Assn., as well as styles for men and women.
No coupon needed; pricing reflects discount.

U.S. Polo Assn. - Boys Black Mallet Boys Reflective Polo - Size M
---
Honorable mention: Masks in neat prints from Janie and Jack
I don't normally cover Janie and Jack since their clothing is so much pricier than the other stores shown here. But they are currently one of the few children's clothing stores which are creating and selling masks, and their cotton masks come at a very affordable price point. The Janie and Jack masks are made from the same fabric and prints as some of their clothing, which seems to me a cool concept. These are available in child and adult sizes.
The Janie and Jack look in general is a formal preppy style. Their mask prints look good and cater to both genders. Speaking from experience, I've found it otherwise difficult to find masks for boys, but regardless whether you have a boy or a girl (or both), you'll be well taken care of at Janie and Jack with a good choice of prints.
You also have the privilege of helping a child in poverty when you shop masks for your own child: for every pair of masks you purchase before September 30th 2020, Janie and Jack will donate $5 to Baby2Baby. Baby2Baby is a nonprofit organization that provides children living in poverty with diapers, clothing and other essentials.
---
Wrapping up
Above I've covered deals from Carter's, OshKosh B'gosh, Old Navy, Cotton On, and U.S. Polo Assn. Stores which sell children's masks are Carter's and Janie and Jack. That's it for now; have a wonderful 4th of July weekend!
You heard it first at GoodKidsClothes.com - where children's clothes shouldn't cost the earth!