Disclosure: I get commissions for purchases made through links in this page. This helps keep this site running.
If you have a young child of toddler age, it can seem like all the educational toys are designed for children older than yours. Don't worry! There are in fact plenty of educational toys for toddlers aged 1 and 2, and even for babies, but you need to know where to look. Here are my top recommendations.
InnyBin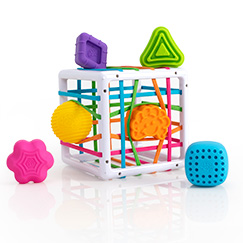 The InnyBin is one of my favorites of the educational toddler toys available at Fat Brain Toys. I've shopped there for toys for my kids and I can attest it's a safe and reliable place to shop with good quality toys. I also love that it offers the option of a gift bag in the shipping options - perfect if you're buying a gift for a young relative.
The InnyBin above lets your child push the shapes that come with it through the elastic bands of the cube. Unlike shape sorters for preschoolers that only allow a specific direction of shape, the InnyBin's elastics allow flexibility, making it ideal for a younger child such as a baby or toddler. This is a toy that encourages your child to experiment, explore and discover.
Another toddler option for fun tactile learning from Fat Brain toys is the ZigZag Racetrack: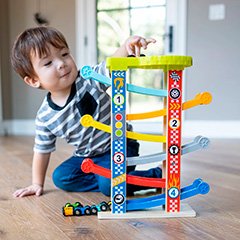 Let's move on to more learning toys for toddlers from other great places. You can always take a look later at the full toddler toy collection at Fat Brain Toys.
Simple multicolor name puzzle
A name puzzle with a simple design is another great option. The Wood Name Puzzle for Toddler you see in the image above is from Child Universe, which uses organic materials and safe non-toxic paints. They ship worldwide.
I recommend going for designs with simple backgrounds at first. With any puzzle, your toddler will need some help from you at the beginning, but that's OK. The tactile feeling of slotting the wood pieces into the puzzle, even with you helping hand-over-hand at first, will help your toddler's senses and fine motor skills.
For a slightly easier puzzle with more of a Montessori approach from Child Universe, you'll want to take a look at the natural wood rainbow stacker.
These are ideal toddler learning toys.
If you're seeking something your child can do fully independently, you'll love my next option! Let's take a look...
Bead Maze
The First Bead Maze from Melissa & Doug is especially designed for 12 months and up, making it ideal for your toddler. There is plenty to do on it that will keep little hands busy. Your child won't need any help with his - he or she will have plenty to do moving the chunky beads around on the maze, and the guided paths mean that your child can't go wrong. Besides moving the beads, he or she will have fun spinning them around too.
When most people think of Melissa & Doug they think of puzzles for slightly older children, but you would be pleasantly surprised at the large number of other toys they have especially for toddlers. I especially love the Frolicking Frog wooden pull toy for teaching co-ordination and gross motor skills as your child pulls it along as he or she walks:
Sensory blocks
Develop your child's senses with this set of 6 sensory blocks from The Tot. There are 2 texture blocks, 2 visual blocks, and 2 auditory blocks. These are made with organic renewable non-chemically treated rubberwood from Thailand. The colors are from non-toxic vegetable dyes. This toddler toy is excellent for learning and encourages independent investigation.
Conclusion
There are plenty of educational toys out there for toddlers 1 and 2 years of age when you know where to look. Above I've shown some wonderfully fun options from Fat Brain Toys, Child Universe, Melissa & Doug, and The Tot. In addition to what I've shown above, you can find plenty more toddler toys at each of those places.