Disclosure: Some of the links on this page are affiliate links, therefore I may be compensated, at no cost to you, if you purchase when clicking through my links. This helps keep the website running.
I've covered cute children's clothes on a budget, but when it comes to swimwear for the younger set - babies, toddlers and young elementary school aged kids, I would not recommend every store on that list.
For the best adorable, comfortable, and photo-friendly swimwear for young boys and girls I recommend Gymboree and Carter's above other stores. This is because both brands cater extremely well to those younger kids with designs that are well suited for that age group. I'll mention a bit about each store briefly and then show some example pics of this season's swimwear, and you'll see what I mean - so cute!
Gymboree is more budget-friendly than you might think
Here's a brief back story to Gymboree and why it's a lot more affordable than you may think. You may be aware that Gymboree used to be a somewhat pricey brand, but several years ago it was bought and continued by The Children's Place. This is where you, the parent, wins - the existing know-how and scale of The Children's Place in the fashion world allowed them to develop their new Gymboree brand to provide the same gorgeous traditional detailed look that Gymboree was always known for, at a more budget-friendly price point than in the past.
Let's move on to the swimwear specifically. Swimwear is something you generally want to buy for your kids as soon as possible because it's such a seasonal item that sizes and styles go out of stock quickly for most brands.
One tip: if your kids are growing fast, you may like to buy 2 styles, 1 in the child's current size and 1 in the next size up. Because otherwise you might be looking to get a new size in August when most stores are out of stock in the size you need (can you tell I've been there and done that?!)
Next I'll talk about Carter's and then we'll take a look at styles for summer 2022.
Carter's - well-designed swimwear for fun and safety
Carter's does extremely well compared with other brands when it comes to ensuring comfort and safety of your baby, toddler or young elementary aged child. For girls you have plenty of choice of one piece or two piece swimwear, where the two pieces are quite modest - very helpful for that younger age group. It's also especially practical to have this choice of swimwear for those who are toilet trained, since using the restroom is much easier for a child in a two-piece. I also love how Carter's pays attention to having the choice of long sleeves or sleeveless in both the one piece and two piece styles for girls.
For boys, Carter's always has a very good range of kid-friendly styles of swim trunks, and their rash guards are available in long or short sleeves, allowing plenty of choice if you have concerns about sun exposure.
Styles for summer 2022
Here are my favorite picks for the summer of 2022 from Gymboree and Carter's. These styles are picture-perfect for great photos, and have bold colors and styles that will let your child shine.
I love this beautiful pineapple themed one piece swimsuit from Gymboree: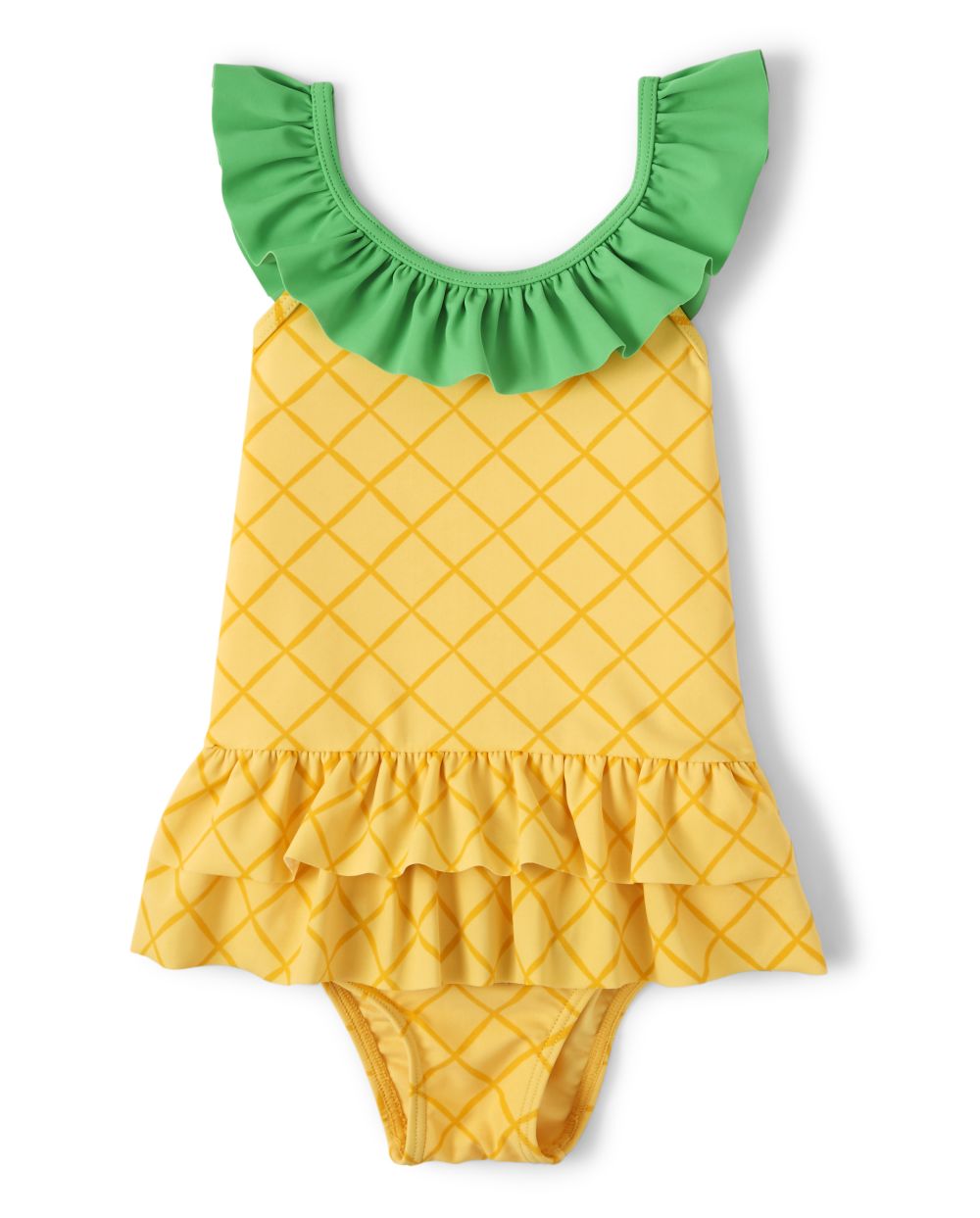 This pirate ship rashguard and swim trunk set from Gymboree is going to be a fast favorite for any little boy: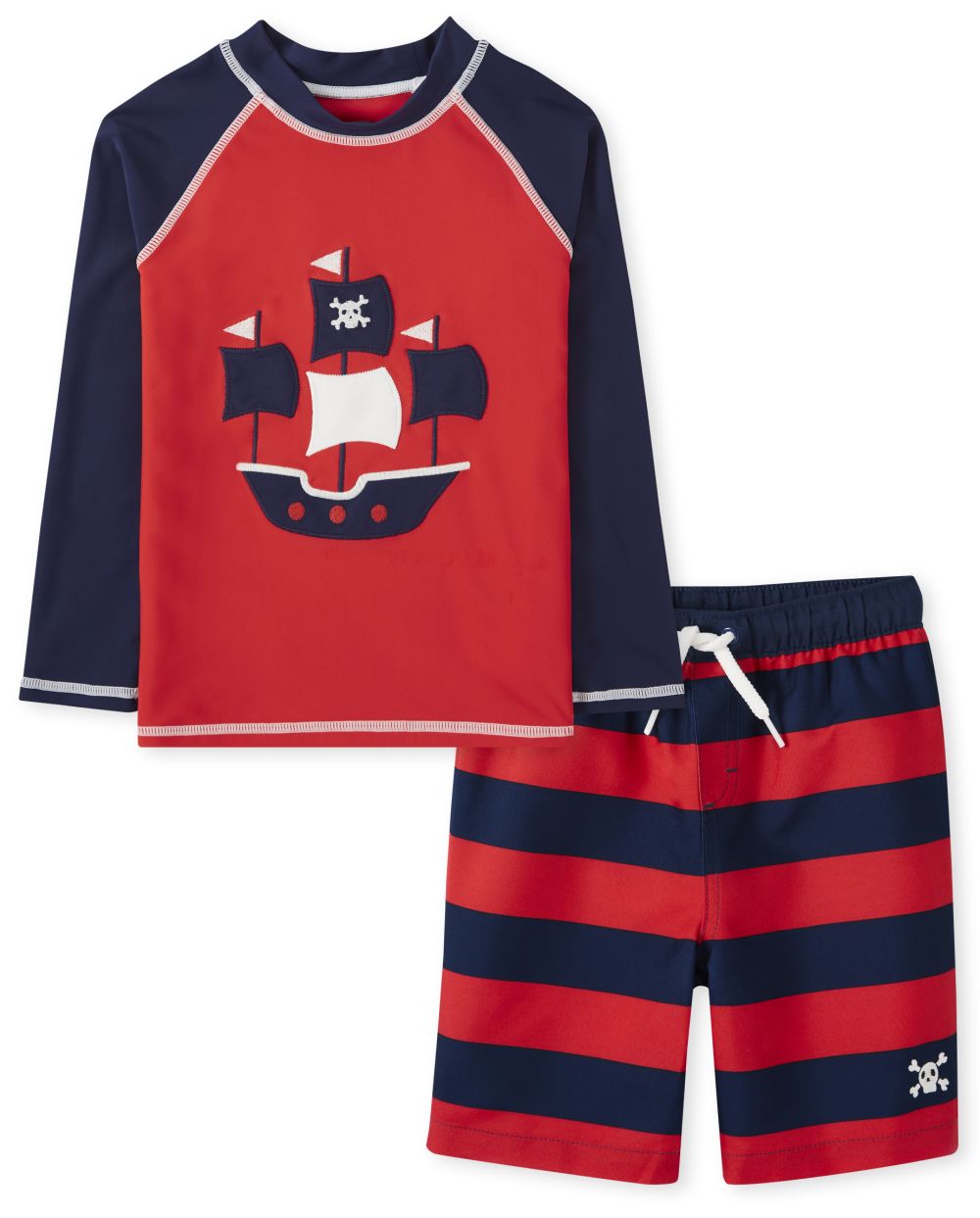 From Carter's my favorites are the girls pink watermelon swimsuit and the boys dinosaur swim trunks.
And if you want to take a look at the full summer 2022 collections, you can see the Gymboree girls swimwear here and the boys here. The Carter's girls swimwear is here and for boys here.
And don't forget about yourself - I've written a separate illustrated article about where to find cute modest swimwear for moms.