Disclosure: I get commissions for purchases made through links in this page. This helps keep this website running
This one's for you, fellow moms! I was looking for cute and trendy modest swimwear this summer. It wasn't always easy to find swimsuits with plenty of coverage and which were cute, trendy and designed for anyone under the age of 50. But rest assured, those types of swimwear do in fact exist! Here I'll talk about some of the styles I found for summer 2023 from different places and different budget ranges. I was finally able to get a great suit and I hope that you too can reap the rewards of my internet hunt. I'll show pics of each style and link back to where you can get it. First though, some mom-specific swimwear tips:
Tips for swimwear for busy moms
Get a color or pattern that stands out for your kids
By far the best tip I have for you is to go for a color or pattern that's easy to spot at the pool - something that stands out from the crowd. Why? Just as it's important for you to be able to see your kids at all times, it's equally important for your kids to be able to see you. Of course, if you have a non-swimmer you'll be at arm's reach of him or her at all times anyway, but if your kids can swim and you're at a busy community pool then it'll help if you're wearing a color that is a little less common. Most colors work OK for this except black or dark blue. The other reason an easy-to-spot color can make life easier is if you're meeting friends at the pool. People can be much harder to recognize in their swimsuits and with sunglasses on. My previous neon yellow suit has worked out really well for that! I'd tell friends I'd be wearing bright yellow, and it's always made it easy. As much as I still love that suit, I needed to get a new one to alternate with it on different days, which is how I came to write this article.
For this reason, all the swimsuits, tankinis and swim dresses I'm showing pics of here are ones that fulfill the stand-out color requirement.
Always think whether the swimsuit can handle you carrying a baby or toddler without a wardrobe malfunction
Another mom requirement is carrying a squirming baby or toddler without accidentally revealing more of your body than intended. I'm pretty sure most swimwear designers do not even consider this when creating their styles! So again, all the styles I've selected here are ones I'd be comfortable wearing while carrying a baby or toddler - nothing is going to skew weirdly in a way that will expose parts you don't want exposed.
Recommendations for modest yet cute swimsuits for summer 2023
Here is my shortlist (OK it's not actually that short!) with pics of the pieces I recommend for anyone looking for a modest yet trendy look at the beach or pool. You'll notice a range of styles and budgets here. I show one piece swimsuits, tankini swimsuits, and swim dresses. This is because some women are more concerned about their top being covered up, others about coverage of their bottom, and others like to have everything covered. So you're certain to find something here that will please you. Feel free to click or tap on any of these to look at sizing and pricing. There's also some extra budget-friendly tips and tricks I mention at the end which helped me a lot.
Full coverage swimsuit
One of my absolute favorites for plenty of coverage at the neck and bottom while still looking on trend and youthful is this Anemone Floral Halter One-piece by Kate Spade. Look how awesome this suit is: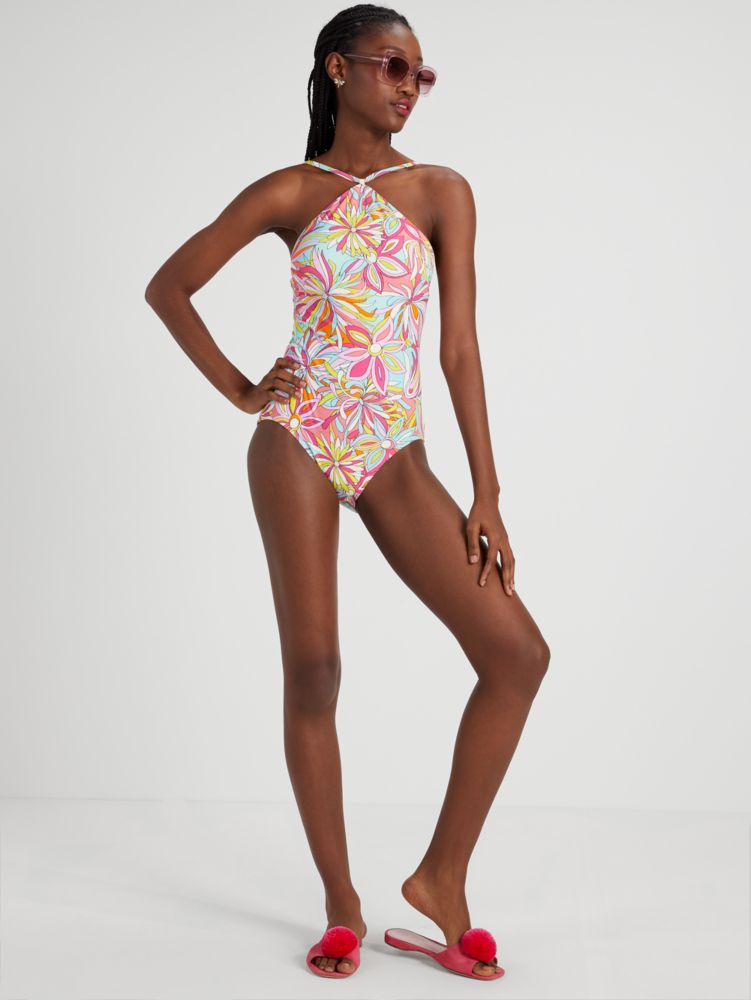 Swimwear with a modest leg line
If you're OK with showing a little more skin up high but still want the bottom to be modestly low-cut, then the NipTuck Amanda Paisley Swimsuit from Marshalls is right for you - and right for your wallet too, at a very affordable price point.
This modest swimsuit is beautifully feminine while still providing plenty of coverage, particularly at the leg line.
Swimwear with good coverage up top
On the other hand, if you're fine with a higher-cut leg line but want to have more coverage up top, then go for this sleek, sporty yet alluring Seychelles One Piece Swimsuit from Athleta.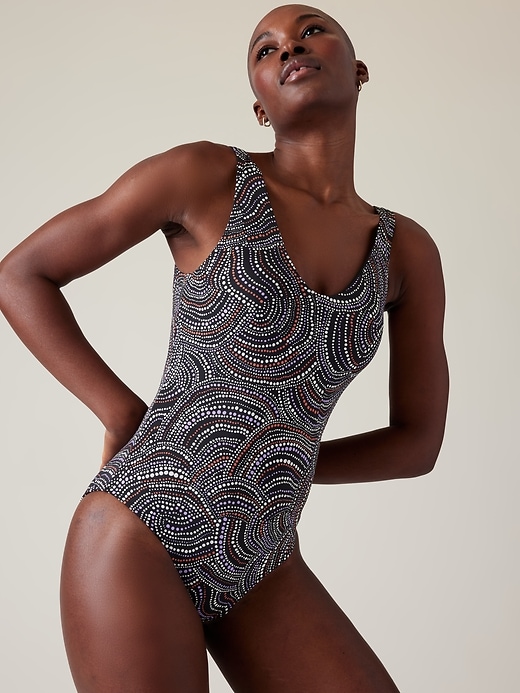 As we saw, modest one piece swimsuits offer plenty of options, but if as a busy mom you're looking for something with even more coverage, you have options there too, as we'll see in the next section.
Swim dresses
Let's move on to something different: a swim dress. I love swim dresses because of their modesty at the upper thigh region. I don't feel self-conscious at all in a swim dress, I just feel like I'm in a mini-dress that I happen to be able to wear into the pool swimming. Here is my favorite swim dress this season, and as an added bonus it's an absolute steal: this stunning Shore Shapes Sweetheart Neck Ruched Swim Dress from Marshalls.
Tankini
A sporty tankini is the perfect way to look great at the pool. As a mom, I love the flexibility it provides: before going to the pool you can simply throw on a pair of shorts over the bikini bottom and you're good to go! If you later need to go anywhere on the way home with the kids (e.g. takeouts, errands), you can, because the tankini top is modest enough to wear as an ordinary top. No need for a separate cover-up, no need to go home before errands.
My favorite tankini top this season is the sporty Nautica Striped High Neck Tankini Top from Marshalls. Please note that this item is the tankini top only, so you'd have to buy a separate bottom. The good news is that the price for this top is so unbelievably low that you'll have plenty left in your budget for the tankini bottom.
Plus size tankinis
Now for plus sizes, my favorite is the Anna Cole tankini collection at Macy's. I love the splashy colors and youthful upbeat style. I also love how you can choose between a regular or a skirted option for the swim bottom.
Long sleeve swimsuit
If part of your reason for wanting to be modest is sun safety, then you're going to love this Cabana Life UPF 50 Tropical Paddle swimsuit at Marshalls. This long sleeve swimsuit combines a sporty look with an upbeat pattern to create the ultimate in looks and practicality.
Indulge in girly elegance
Kate Spade is synonymous with elegance and beauty, so if you're looking for an excuse to splurge, this Patio Tile One-Piece Swimsuit at katespade.com is the one for you!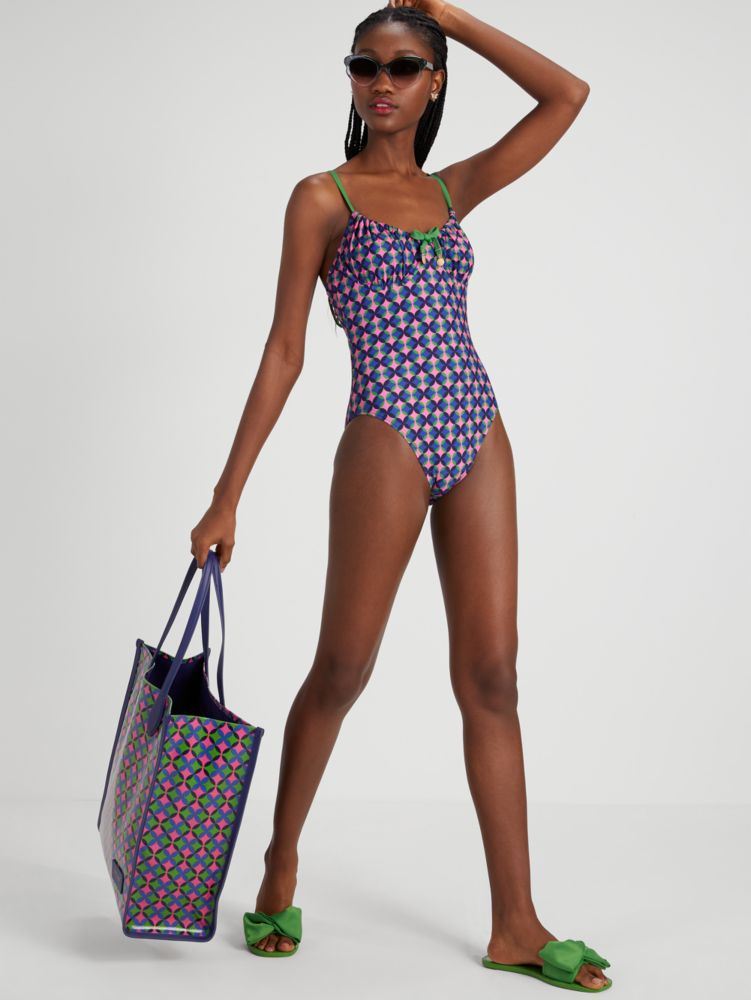 It's definitely possible to find cute bathing suits for women which still provide plenty of coverage.
Budget-friendly tips and tricks for swimwear shopping
Most (but not all) of the swimwear shown above are priced affordably. But if you're on a shoestring budget and have next to nothing to spend, let's cover a few tips.
Amazon.com
You can find plenty of cheap swimwear, especially swim dresses, at Amazon.com. But be aware that many of the cheap options are overseas brands from China, and quality can be hit-or-miss. You might get a really awesome deal on a great quality suit (my favorite yellow suit is from one of those overseas brands) or on the other hand you might equally well run into quality issues. It's hard to predict. But it's worth at least taking a look - examining the reviews help too, as you'll get a feel for whether other women would recommend that item. You can look here at modest swimwear on Amazon.com.
Be careful about checking the sizing - the brands that are made in China can run very small (Asian small/medium/large is very different to US small/medium/large), although some brands will have adjusted their sizes to reflect US sizing. Amazon products all show sizing information so you should be able to compare the suit with your measurements and get the correct size from that.
eBay.com
Another good place for rock-bottom prices on cute modest swimsuits is ebay.com. If you're thinking of shopping there, look only for "new with tags" items - there is a filter you can apply for that. Be aware that some sellers ship direct from China or another overseas country, and I didn't want that since it could take awhile to arrive, so I also recommend applying the "US only" (or wherever you live) filter to your search results. The reason you can get some great deals on eBay is that some online retailers such as QVC have new-with-tag items which are a customer return that didn't fit the customer. The brand doesn't want to bother taking the time to sell these returns again so it packs them off at a low price to an eBay seller, who passes the savings along to you. Always read the product description very carefully, especially the sizing information. Also, check the seller's reputation score. I recommend only buying from someone who has a 99.8% and up reputation. Tip: sometimes the same item is available from different eBay sellers, so shop around for the sellers with the best reputation score and the ones who show the sizing information.
This is exactly how I found my new suit, a QVC return on eBay - it was absolutely gorgeous! It was normally $80 but I got it for $26. I could quickly see why it had been a customer return though - the suit ran very small. Luckily I read the sizing info on the product description at eBay and I could see that meant I would need to order a size up from what I normally fit. Even then, it was a little snug getting it over my hips! So be extremely careful about reading sizing info ahead of time because many eBay sellers don't accept returns (that info is displayed on the product page). If the seller doesn't give sizing information for that product, either don't buy that item or ask the seller first if he or she has any sizing info for it. This is even more important if you're planning on buying from an eBay seller located overseas - their sizing may not match up at all to what you would normally go for, so always check your measurements against their sizing chart.
Marshalls.com
Some of the suits illustrated above in this article are from Marshalls and I'd like to mention it a bit more. It's a place where you can get designer brands at a rock bottom price point. This is because sometimes brands have too much of a particular style so they offload it at a very cheap price to Marshalls, who then passes those savings along to you. You can take a look at all of their swimwear here. The only downside is that things can go out of stock there quickly, particularly in popular sizes. So if you see something you like, you should buy it before it's gone!
You may also like to know where to find the cutest swimwear for toddlers and young kids.